Media Release
BASEBALL DIGEST HONORED WITH FOLIO:'s COVETED EDDIE AWARD
Iconic Publication's May-June 2020 Issue Recognized For Editorial Excellence
 
Wednesday, September 23, 2020 – The May-June 2020 issue of Baseball Digest—which marked the first time a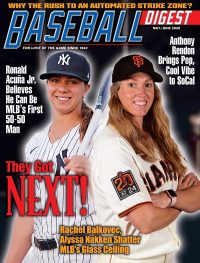 woman in Baseball has been pictured in a major-league uniform on the cover of any nationally-distributed magazine—has been honored with Folio:'s coveted Eddie Award. The annual award recognizes excellence in engaging content and gorgeous design across all sectors of the publishing industry.
"This is an incredible honor for a 79-year-old publication which we re-imagined in 2018," said Editor-in-Chief Rick Cerrone. "It would not have been possible without the excellent work of our editorial, art and photography contrbutors."
Folio:'s annual awards program is the most comprehensive and prestigious of its kind in the publishing industry. A panel of more than 300 publishing executives narrowed thousands of entries into a pool of roughly 1,000 finalists. In total, 300 awards were given out across 47 categories.
Baseball Digest, which was honored in the consumer, sports/recreation category, was the only sports magazine to win an award this year and it is the first award won by the magazine in its 79 years of publishing.
About Folio:
Folio: is the information resource publishing executives turn to for news analysis, commentary, and thought leadership in driving business strategy, value creation and revenue growth. Folio: delivers this insight across several newsletters, social media communities, special reports and live events, including the annual Folio: Show being held each October in New York City. For more information, visit www.foliomag.com.