MEDIA RELEASE
FOR IMMEDIATE RELEASE
CONTACT: Rick Cerrone / rcerrone@baseballdigest.com
Download Release
Rays' Randy Arozarena and Reds' Jonathan India Named
2021 Baseball Digest / eBay Rookies of the Year
Wednesday, November 10, 2021 – Outfielder Randy Arozarena of the Tampa Bay Rays and second baseman Jonathan India of the Cincinnati Reds have been selected as the 2021 Baseball Digest /eBay American League and National League Rookies of the Year. It marks the 50th consecutive season that Baseball Digest has presented AL and NL Rookie of the Year awards (since 1972).
The selections were made by the independently submitted votes of an eight-member (seven-vote) panel of those Baseball Digest contributors who provided the 2021 division previews as well as Editor Thom Henninger. Arozarena received five of the seven first-place votes with the other two going to Luis Garcia of the Houston Astros and Adolis Garcia of the Texas Rangers. India received six first-place votes while Trevor Rogers of the Miami Marlins got one.
Randy Arozarena became the first rookie in Rays franchise history with a 20HR-20SB season and just the 11th in MLB since rookie status was redefined in 1958. The 26-year-old right-handed hitter led all major-league qualifying rookies with a .274 average and 145 hits, and topped AL rookies with 94 runs, 32 doubles, 56 walks, 20 stolen bases, a .356 OBP and .815 OPS. His 69 RBIs ranked fourth among AL rookies. After opening the season with an eight-game hitting streak, Arozarena ran off a 12-game streak in June and an 11-game streak in August in which he batted .476 (20-for-42).
Arozarena is the third member of the Rays franchise to be named Baseball Digest's AL Rookie of the Year, joining Evan Longoria (2008) and Jeremy Hellickson (2011).
Jonathan India is the first rookie in MLB history to record at least 20 home runs (21), 20 hit-by-pitches (23) and 10 stolen bases (12) in a season. He was one of only two players in 2021—along with Philadelphia's Bryce Harper—to produce at least 98 runs scored, 33 doubles, 21 home runs, 12 stolen bases and 71 walks. The 25-year-old right-handed hitter led all rookies with 150 games played, 98 runs, 34 doubles and 71 walks. His .376 OBP topped all qualifying rookies and he led NL rookies with 57 extra-base hits, 69 RBIs and 244 total bases.
India is the second member of the Reds franchise to be named Baseball Digest's NL Rookie of the Year in the 50-year history of the award, joining Chris Sabo (1988).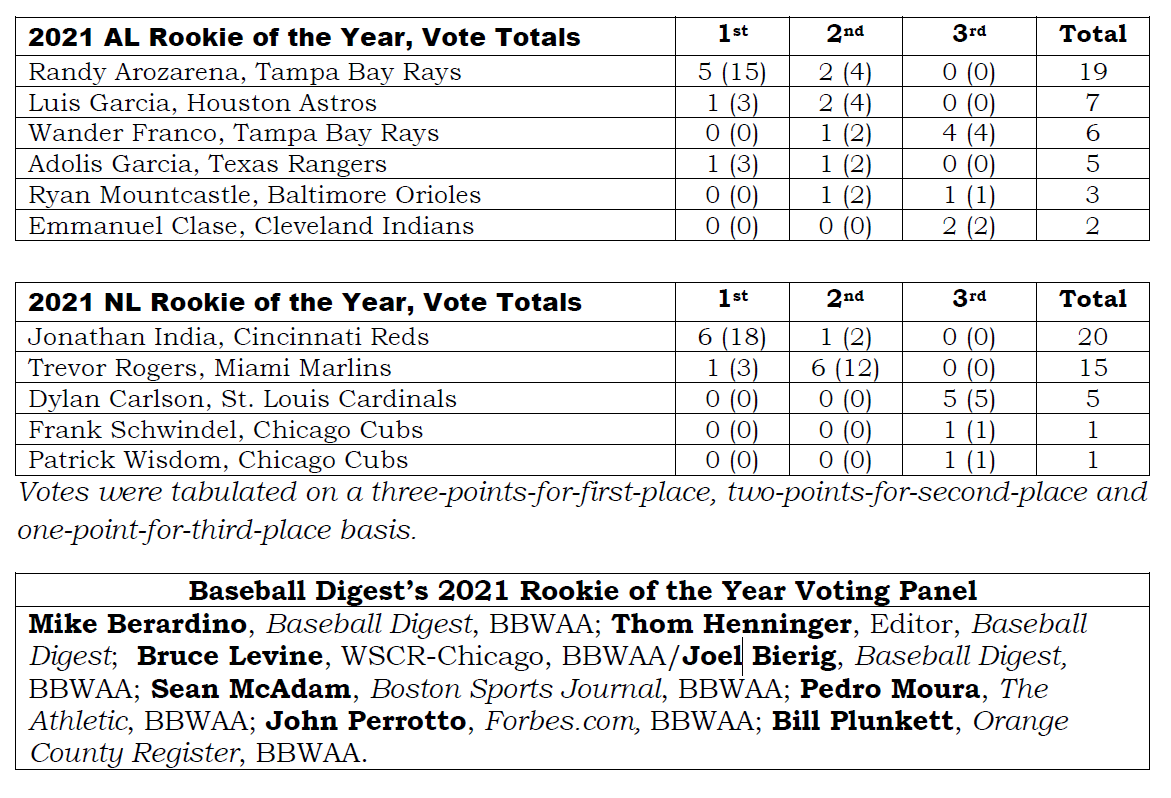 MEDIA RELEASE
FOR IMMEDIATE RELEASE
CONTACT: Rick Cerrone / rcerrone@baseballdigest.com
Download Release
Angels' Shohei Ohtani Wins 2021
Baseball Digest/eBay MLB Player of the Year Award
Max Scherzer Selected as MLB Pitcher of the Year
Brewers' Josh Hader Voted MLB Relief Pitcher of the Year
Thursday, October 7, 2021 – Shohei Ohtani of the Los Angeles Angels has been selected as the 2021 Baseball Digest/eBay MLB Player of the Year. Max Scherzer, who split the season between the Washington Nationals and Los Angeles Dodgers, has been voted MLB Pitcher of the Year while Josh Hader of the Milwaukee Brewers has been named MLB Relief Pitcher of the Year.
Ohtani received 16 first-place votes from a the independently-submitted ballots of a 19-member "blue-ribbon" panel of longtime baseball observers, which included writers, broadcasters, former players, managers and executives. Guerrero Jr. received two first-place votes while Salvador Perez of the Kansas City Royals received one.
This is Baseball Digest's 53rd "MLB Player of the Year" award (1969-2021) and its 28th "MLB Pitcher of the Year" (1994-2021). The "MLB Relief Pitcher of the Year" was first awarded in 2012 and annually since 2014.
Shohei Ohtani provided a two-way performance not seen in more than a century. He hit a career-high 46 homers—third-most in the majors—and stroked 14 in a red-hot 17-game stretch through July 4. Ohtani, who scored 103 runs and drove in 100, is the only player in MLB history with a season of at least 45 home runs, eight triples, 25 doubles and 25 stolen bases. On the mound, he made 23 starts and went 9-2 with a 3.18 ERA. In eight of his 23 starts, the right-hander worked at least six innings and held his opponent scoreless or to a single run. At the All-Star Game in Denver, he batted leadoff for the American League, started the game on the mound, and earned the win—something that had never been done in any major-league game. The 27-year-old Ohtani, Baseball Digest's 2018 American League Rookie of the Year, is the third Angels player to be named MLB Player of the Year by Baseball Digest in the award's 53-year history (1969-2021), joining Vladimir Guererro (2004) and Mike Trout (2014, 2019).
Max Scherzer, acquired by the Los Angeles Dodgers from the Washington Nationals on July 30, went 15-4 with a 2.46 ERA that ranked second among ERA qualifiers. He was at his best over his final 11 starts of the season with Los Angeles, going 7-0 with a 1.98 ERA and 89 strikeouts in 68.1 innings. The 37-year-old right-hander was stingy as ever in 2021, posting a 0.86 WHIP that was the lowest in the majors. He also topped all ERA qualifiers by limiting opponents to a .185 batting average. On September 12, Scherzer became the 19th pitcher in MLB history to reach 3,000 strikeouts in a start against San Diego in which he threw an immaculate inning (nine pitches, three strikeouts) and took a perfect game into the eighth inning. His immaculate inning was the third of his career. Scherzer was also named MLB Pitcher of the Year by Baseball Digest as a member of the Detroit Tigers in 2013.
Josh Hader saved 34 games for the Brewers. Four closers recorded more saves, but the 6-foot-3 lefty was nearly perfect in 2021. He blew only one save opportunity all season for a 97-percent success rate that was highest among all relievers with more than five saves. Hader, who began his fifth big-league season with a stellar 2.54 ERA, posted a 1.23 ERA that was twice as good as his career mark. Only one reliever (minimum 50IP) turned in a lower ERA, though the eight runs allowed all season by Hader was the lowest among all MLB pitchers who worked 50 innings. Hader didn't allow a run in his final 21 appearances after July 28, fanning 37 batters in 20.1 innings and converting all 13 of his save chances. For the season, the 27-year-old left-hander fanned 102 batters in 58.2 innings, reaching triple-digit strikeouts for the third time in four years, falling short only in the pandemic-shortened 2020 campaign. Hader is the second Brewers pitcher to be named MLB Relief Pitcher of the Year, joining Devin Williams (2020).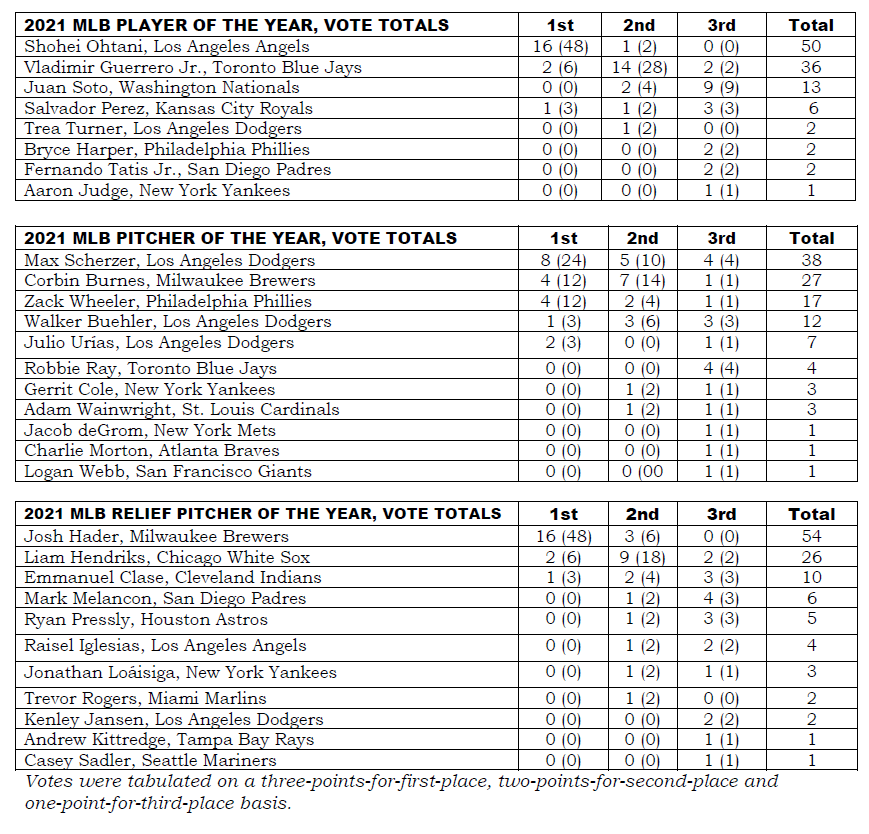 Grandstand Publishing LLC
© Copyright 2023 Grandstand Publishing LLC. Baseball Digest is a registered trademark of Grandstand Publishing LLC. All Rights Reserved. Baseball Digest is published six (6) times per year by Grandstand Publishing LLC. Offers may be subject to change without notice.